A Question of Care: Is it a career for you?
Do you enjoy seeing people get the most out of each day and achieve what they want in life? This is what a career in care is all about!
It might mean working with
babies and young children
children and young people
adults when they need extra help
in fact people of any age – supporting them to turn their dreams into reality!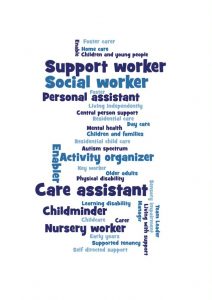 Try our "What is the Challenge?" to see what a career in care is like. At the end you`ll receive a detailed personal profile that tells you if you've got what it takes to join us!
OR you might like to take the quiz. Is adult social care for you?  You don't necessarily need qualifications or experience to work in social care. What's really important is your values and attitude. Take our short quiz and see if social care is the right career for you.
Take the quiz: Could you work in Adult Social Care?
Careers in Health & Social Care within BLMK
This is a guide for health and social care career pathways in Bedfordshire, Luton & Milton Keynes (BLMK).
Click here to view the colour version brochure
Click here to view the black and white version brochure
Working in Care in Central Bedfordshire:
Check out this page to find out more about how you can register your interest in working in care in Central Bedfordshire and share your profile with local employers:
Click here to register your interest 
If you are new to working within adult social care, don't worry; colleagues at Central Bedfordshire Council  can help you with training. Just email workinginahsc@centralbedfordshire.gov.uk to ask us about training.
Find A Job in Social Care
If you are looking to work in social care within Bedfordshire Luton & Milton Keynes, please follow the links to the DWP Jobs website "Find a job in Social Care" given below.  .
Bedfordshire & Luton social care jobs
Milton Keynes social care jobs
Every Day Is Different
A website where adult social care vacancies are advertised.  It also provides you with further information on adult social care roles and guidance on applying for jobs.
Click here to visit Every Day Is Different and enter your postcode.
Other sites for social care jobs are:
Total Jobs website: Social Care Jobs
Social Care website: Social Care Jobs
You can also visit the "H&S Care Employers" page on this microsite to search for vacancies on each of the health and care providers within BLMK  you may wish to work for.